Alice Lake 
24 inch x 8 inch Triptych Tile
Alice Lake, the gem of the Sawtooth Mountain Range in Idaho.   The Sawtooths are my favorite to hike.  The rugged peaks, the crystal clear alpine lakes are world renowned for their majestic beauty.  The trails here are rugged with plenty of elevation gain to challenge even the most experienced hiker.  I have so much love for this wild country of Idaho.  The height and ruggedness of these peaks are awe inspiring and humbling.  In this playground of ours, we can find a closeness like none other to our Creator and see His hand in every curling leaf; every creature that roams the forest.  Each step along the trail teaches us a little more of our true nature…the journey shows us how capable we really are and how amazing this life is!
"And into the forest I go to lose my mind and find my soul."
Now, I know that not everyone can traverse these trails, either time, interest, or ability prevent it. Perhaps you have been to Alice Lake and you understand exactly what I am talking about.  And this lake is a special place for you too.  I hand carved the Alice Lake Tile Triptych just for you.  I want to share this beautiful lake with everyone; a picture of a breathtaking lake, forever memorialized in clay.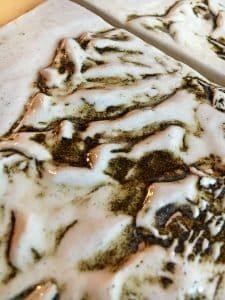 With this triptych you can experience the awesomeness of this place.  Run your fingers along the ruggedness of the peaks, across the smooth crystal lake that peeks out from behind tall pines. You can experience this special place in a tangible way.
The Triptych measures 24 inches x 8 inches.  The left and right ceramic tile measure 6 inches x 8 inches, with the middle ceramic tile measuring 12 inches x 8 inches.  Made from stoneware clay and hi fired, makes this piece durable and perfect for any tile installation around the home.  With each tile measuring approximately 1/4 inch in thickness  you can install this piece into your fireplace surround or kitchen backsplash paired with commercial field tile. The Alice Lake Triptych is available in any of our studio glazes. These tiles are also available in our rich, speckled clay. Order Alice Lake Triptych.
Not sure how to incorporate this design into your home?  Fire Creek can help you design the tile installation of your dreams with our tile, contact us today.
I have many favorite places that I would love to carve into clay.  Do you have a favorite place that is special to you? Tell me about it in the comment section below!
~Dana