Of the esteemed Graycliff
The new exclusive landscape ceramic ornament for Graycliff and Frank Lloyd Wright enthusiasts.
Handcrafted tile artists and the style and philosophy of Frank Lloyd Wright have always gone hand in hand it seems. Where you find one, you'll often find the other.
"Frank Lloyd Wright believed beauty, the arts,and communion with nature were vital to the well-being of people. By reuniting the interior of the human shelter with the natural environment outside, new experiences and patterns are created, the human spirit is awakened, and everyday life enriched." ~ Margo Stipe
There is no better example of this than the Graycliff in Derby, New York.  The home built in 1926-1931 in the Prairie School Style for the Martain family, was their summer home.  The gorgeous estate overlooks the shores of Lake Erie and considered the "jewel on the lake".  Graycliff is one of only five Frank Lloyd Wright homes to be built between the years of 1925-1935.  
The home, built in the organic architectural style, is open for tours and hosts many community events. If you haven't visited, you need to see this place for yourself.
Introducing the new Graycliff Ornament.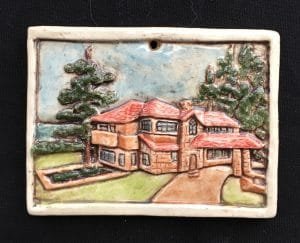 I've been fortunate to have a quality selection of Fire Creek tile in the Graycliff Gift Shop for several years now. I am excited to tell you about a recent commission to craft a ceramic ornament in the likeness of this beautiful home.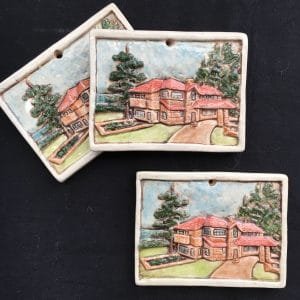 I would like to introduce a new hand carved ceramic ornament. Introducing the exclusive landscape Graycliff Ornament available exclusively at the Graycliff Gift Shop. Go visit and bring home the perfect little gift to remember your visit and to show your support of the continued conservation of this estate and the philosophy it represents.
I haven't had the chance to visit this place yet, but I'm planning to soon. I'd love to hear your thoughts, be sure to tell me in the comments.
Thanks for reading, folks!
~Dana