You're unique, an original…
About Fire Creek Clay.
You're unique… an original and you want to surround yourself with what is important to you. Living in a bustling urban setting can leave us feeling disconnected and anxious. The communion with nature, being surrounded by beauty and meaningful works of art are critical to our well being. Surround yourself with the beauty of nature to create a calming retreat to come home to after a busy day.
Fire Creek crafts beautiful ceramic tile depicting landscapes, floral and wildlife. I strive to create a realistic representation of the breathtaking things found in nature with an artistic feel in my tile. Feeling stressed and disconnected? Why not reunite your interior space with the natural environment outside. Choose from Fire Creek's many designs to surround yourself with what is important to you and truly make your house YOUR home. With my custom, hand carved ceramic art tile, you can turn your next tile project; whether it be a kitchen back-splash, a fire place surround or a bathroom space, into something unique, like you.
About the Artist
You can usually find me in the back-country in the great state of Idaho. It is in the mountains and forests that I find the inspiration for my work. I strive to present a new way to add not only handcrafted works of art to the homes across the country, but a unique way to add the serenity of Mother Nature to their space. Being a self taught artist, I've used the last nine years to hone my skills and technique. As an artist, I continue to push myself and the medium that I have chosen to express the wonder and beauty that I find among the pine trees. I feel very passionate that even with the hustle and bustle of the crazy urban life that so many of us live in, we can surround ourselves with pieces that bring some peace into our crazy lives. My hope is that the pieces that I craft will do that for you.
Be Bold, Be Brave, Be You!
Fire Creek Clay continues to craft unique ceramic tile so that others can surround themselves with what is important. For me its pine trees and pine cones…but what is it for you? The timeless feel of our historical designs, a tile that reminds you of your favorite pet, or a flower that holds special memories for you? There are so many tiles to choose from in my shop and I add more all of the time.
Living in a home that is authentic to you and your lifestyle truly makes a house a home. Let Fire Creek Clay help bring what you love into your home by choosing custom tile today!
Dana Higby
Fire Creek Clay
(208) 941-7460
dana@firecreekclay.com
---
A word from our customer…
"Thank you for all of your help in making my dream come true here! The results are even more stunning than I had hoped for! I am so proud to have your gorgeous work in my home!" ~Amie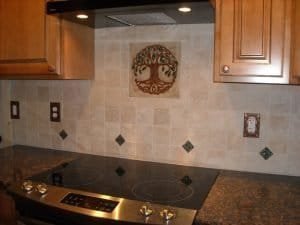 ---
Find Fire Creek on Houzz!
How can I help you find the perfect look for your home? Contact me today!