Description
Donkey Tile
handcrafted by Fire Creek Clay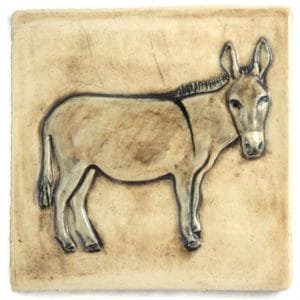 The Donkey 4 Inch Tile, look at those ears! The donkey has been the key packing animal in several cultures for over 5,000 years.  That's pretty amazing, considering they aren't the most agreeable animal in the world.  But those faces and the long ears, who couldn't love these creatures?  Bring this sweet little guy home and add him to your tile installation.  Keep him company with the other Farm Critters in the series to complete the Farmhouse Décor.
Each tile we craft starts as a slab of clay, a design is carved and then cast in plaster.  You can read more about our tile process HERE. Fire Creek tiles are crafted from stoneware clay and hi fired for beauty and durability.  At 1/4 inch thickness, our tiles pair beautifully with commercial tile.  Are you looking to add more texture and character in your home?  Consider using our hand cut field tile along with our accent tile for the complete handcrafted, rustic look.   We have several glazes to choose from.  A variety of colors to compliment any tile installation and décor.  Fire Creek is here to help you achieve the look of your dreams. We craft every tile just for you, so please allow 4-6 weeks for delivery.
You can have the tile that reflects what is in your heart and live in a home that surrounds you with what is meaningful to you.  Be Bold, Be Brave, Be You!