Description
Field Tile
4 Inch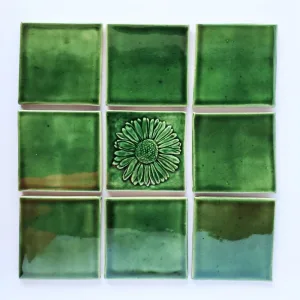 Fire Creek Four Inch field tile is the best way to complete your rustic home tile installation.  Every tile is hand cut and creates a timeless look of the old world in your home. Hand cut field tile are highly variable in nature and will display the hand of the maker in every tile.  Expect some slight variances in size, shape and color.  I make tiles at the time of order, out of stoneware clay. Perfect for any kitchen backsplashes, bathroom tile installations and fireplace surround that you dream up.  Please allow up 10 weeks for delivery depending on the amount of square footage in the order.
Currently, Fire Creek is taking orders of four-inch field tile up to 40 square feet.  Price is for a single tile.   There are 9, four-inch tiles per square foot. Let me tell you how I make Fire Creek Clay tile.  Fire Creek four-inch field tile is the best pairing for my bas-relief art accent tile of nature and wildlife.
I recommend hiring a tile installer who is familiar with installing handmade ceramic art tile.  However, you can install Fire Creek tile yourself.  Here are a few of my best tips to achieve the inviting tile installation with handmade tile.