Description
Nuthatch 6 Inch Tile
"Upside Down"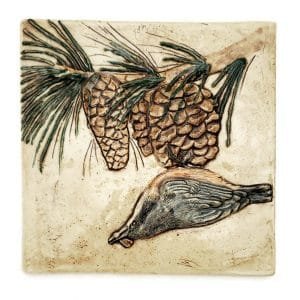 The Upside-Down Nuthatch 6-inch ceramic tile.  A hand carved sculptural tile of a little bird going about his daily business in a forest near you.  The first tile complete in an upcoming series of 3 tiles.  Nuthatches are amazing creatures.  Be sure to swing by and read about the inspiration for this series on the blog.
Hand crafted from durable stoneware clay
6 Inch Tile
.25 Inch thick to pair easily with commercial tile.
Install in a kitchen back splash or fireplace surround.