March has finally arrived, the sun is shining a bit more and the studio is finally warming up some. The birds have returned to the yard. Spring flowers will soon begin to peek their heads up from their winter slumber. Well, spring flowers are already blooming here at the Fire Creek studio!
Introducing…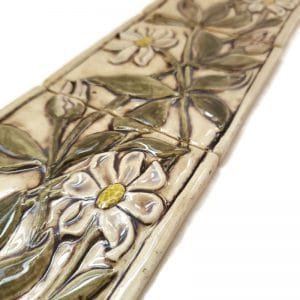 Introducing the Magnolia Flower bouquet; a design sure to add a little of the spring season to your home all year long. Two 4 Inch tiles create a repeating pattern of magnolia buds, blossoms and branches that repeat to create an ongoing pattern. Use a few of these tiles for a cheerful display. Consider using the border to cap a wall of field tile in a bathroom for a bold statement.
Fire Creek has 14 beautiful translucent glazes that highlight the relief of the tile beautifully. I also carry an additional 26 custom studio glazes that compliment any home decor.
Our tiles are carefully hand carved and each tile is unique. I craft all of my tiles from stoneware clay and high fire them for beauty and durability.
The tile border is sold by the foot. Shop the Magnolia Border