The Tooth of Time.
"Into the forest I go, to lose my mind and find my soul". ~John Muir
Hey There! If you have been following me on any of the social media avenues, (and if you're not, you ought to get your fanny over there and follow for a behind the scenes look at Fire Creek Clay!), you would know that I am a backpacking wander woman. I am at my happiest when I am in the backcountry away from news, rotten television and cell phones. If you are new to the blog, welcome and yes…I need fresh air and sunshine to breathe and to be happy.
Lately, I have been very busy carving a new 8 inch tile and ornament featuring the Tooth of Time in Northern New Mexico. Why would an Idaho girl like myself, be so infatuated with a mountain peak in New Mexico? Well, let me tell you.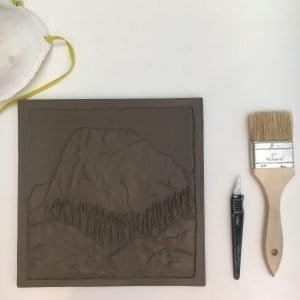 Have you ever had a place that really sticks with you? A place that stretched you to your limit. Pushing you beyond anything that you thought you would ever do and you came out on the other side better for it? That is what the Tooth of Time is for me.
The Tooth of Time sits above the Boy Scouts of America's Philmont Scout Ranch. A beautiful ranch of over 220 square miles of wild country in the Sangre de Cristo Mountains in Northern New Mexico. In 2013, I joined a crew of 7 boys and 3 adults. My husband, who had been diagnosed with Leukemia the year before, was unable to make the trip. I had been sitting in a hospital room for more than year and was sorely out of shape, but made the trek anyway to help my husband experience the trip even if it was only through photographs and stories.
Our trek was 63 miles long, not including the short hikes to staffed camps for re-supply and other offered programs. Within those 63+ miles, we experienced drastic elevation changes, black powder shooting, rock climbing, exploring old mines just to name a few things. I got up every morning before the sun rose. We ate our breakfast on the trail to avoid the monsoonal rain showers that happened like clock work from 12-2 every day. I grinned and bared the extra 10 pounds in my pack and still climbed that hill! We all carried extra weight, at the time, Philmont food was canned good items, so food was HEAVY! I made it for 9 days without a shower and the shower on the 10th day…though it felt pretty good…lasted a total of 2 minutes.
Now, that may seem like a lot of work and not much fun to a lot of people. But to me, at that time in my life when so many things seemed out of control…I learned the true strength that I had within me, that when you are determined and have a goal in mind, you can do anything. Strength, determination, perseverance and sheer grit can take you anywhere you want to go in life. The Tooth of Time represents all of the doubts and all of the fears that I had carried for so long. I made it to the top of that Peak as well as others within the boundaries of the Philmont Scout Ranch. I conquered all of those fears and it made me a stronger, better person for it.
"That Tooth of Time's been chewing on me…."
This summer, July of 2018, I will be going back on a trek with my husband with 11 youth.  This time, our crew will include 3 young women!  On this trek, we will be completing 72 miles that features the Northern Country of Philmont. Our trek will include rock climbing, and a High Ropes COPES Course that is 35 feet off the ground!! I can't wait to share the experiences of Philmont with this group of youth. I hope that they find the same strength and wisdom that I had found in the wilderness of the Sangre de Cristo mountains of New Mexico in 2013.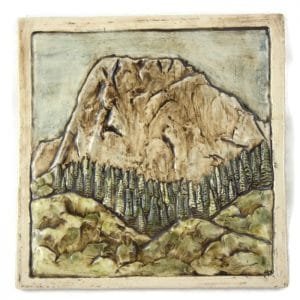 So, the 8 inch tile of the Tooth of Time and the "Hike On" Tooth of Time Ornament that I have just recently finished is a tribute to that peak and everything that it stands for. There are many mountain ranges here in Idaho that have taught me a lesson or two. They will also be memorialized in clay in the years to come. What are some of the peaks and mountain ranges that have taught you a lesson or two? I would love to hear, if you would please leave a comment below.
Last Day to Order is May 30th, 2018.
And with the announcement of my trek back to Philmont, my studio and online shop will be closed the month of July 2018. The last opportunity to order custom tile work before I leave is MAY 30. In stock items can be ordered up until June 31st. My studio and online store will open back up August 1st. You can catch some of the trip and trek on Instagram and Facebook by following @firecreekclay. (As long as I have cell service!) This is a great way to experience a trek if you don't have the opportunity to go! If you have been, leave me a comment about your experience below!
The new pieces are now in the online shop!
Thank you for reading and being a friend of Fire Creek Clay. I appreciate our time together. Have a blessed day!
~Dana