Description
Celtic Cross Ceramic Tile
handcrafted by Fire Creek Clay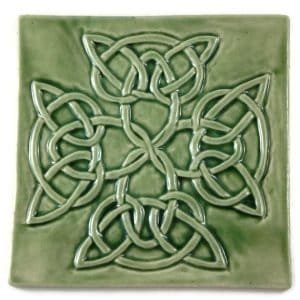 The Celtic Cross 6 Inch tile is an intricate and elegant knot.  Consider placing three of these lovely tiles above a stove as a focal point.  Set the tiles on point or on the square.  Either way is beautiful. Pair it with the 2 Inch Cross Celtic knot for an added statement.
Our tiles are 1/4 inch thick and fit perfectly with commercial tile, or natural stone.    Each tile starts as a slab of clay, hand carved, and cast in plaster.  Take a moment to read about our tile process HERE. We can help you achieve the look of your dreams.  Do you still have questions? You can find answers to our most asked questions HERE.
You don't have to have the same look that all of your neighbors have! Choose the tile that is meaningful to you!
We hand craft our tile just for our tile just for you.  Please allow up to 6 weeks for delivery.