Description
Lily
4 Inch Ceramic Art 

Tile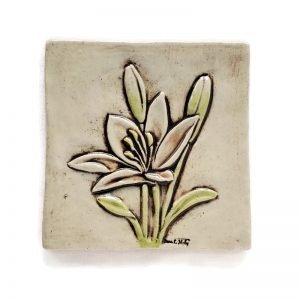 Lily on a 4 inch tile.  Each Fire Creek design is carved from slab, cast in plaster and clay is pressed into the mold to create the tile.  Choose from hand painted finishes to any of Fire Creek's studio glazes to compliment your decor.
4 Inch tile
.25 Inches thick to pair easily with commercial tile or Fire Creek's hand cut field tile.
Crafted from stoneware for beauty and durability.
Suitable for tile installations in your country kitchen, bathroom or fireplace.
Custom made for you at the time of purchase.  Please allow up to 6 weeks for delivery.
Live Wild!
I specialize in high relief and highly detailed ceramic art tile of wildlife and nature.  It is my passion to create custom works of enduring art for the homeowner who wants to live closely to nature and wildlife.  Read more about Fire Creek and the artist behind the work.