Description
"The Curious" Jackrabbit
4×8 Inch handcrafted tile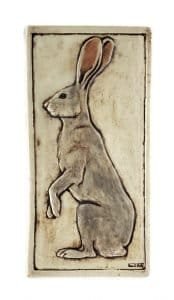 The Curious Jackrabbit pauses to see what has caught the attention of his brother The Sentinel in this sweet ceramic tile. The arrival of rabbits to the garden is a sure sign of Spring.  These amazing creatures are super fast and can run as fast at 40 miles per hour.  They like to run in a zig-zag pattern as they run to help avoid their predators, the coyote and bobcats.  Their strong hind legs help them jump as high as 20 feet in one jump! What amazing creatures!
This tile is one of three Jackrabbit tiles.  Use the 4×8 inch Sentinel alone or pair with his other brothers for the perfect accent to your farmhouse or country home.  Fire Creek tiles are hand carved, cast in plaster and crafted from stoneware clay for beauty and durability.  The Curious is created just for you upon the receipt of your order.  Please allow up to 6 weeks for delivery.
4×8 Inch tile
.25 inches thick to pair easily with commercial field tile.
1 of three in the jack rabbit series
Crafted from high fire stoneware clay for beauty and durability
Hand crafted just for you. Please allow up to 6 weeks delivery.