Description
Tooth of Time 8 Inch Tile
made by hand by Fire Creek Clay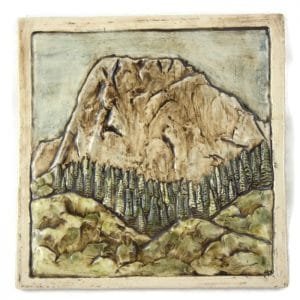 Have you ever had a place that really sticks with you? A place that stretched you to your limit, pushing you beyond anything that you thought you would ever do and you came out on the other side better for it? That is what the Tooth of Time is for me.
The Tooth of Time sits above the Boy Scouts of America's Philmont Scout Ranch. A beautiful ranch of over 220 square miles of wild country in the Sangre de Cristo Mountains in Northern New Mexico. If you have ever been on staff at Philmont or have hiked a trail and that Tooth of Time has been chewing on you…this tile is for you!  A beautiful 8 inch tile that would be perfect as a an accent in a fireplace or wood stove surround.  Give honor to the place that changed you for the better.
Each tile begins as a slab of clay, hand carved and cast in plaster.  Take a moment to read our tile process HERE. 
Fire Creek can help you achieve the look of your dreams. We craft every tile just for you, so please allow up to 6 weeks delivery.  Do you still have questions?  You can find answers to our frequently asked questions HERE.  You don't have to have the same box store tiles that everyone else has.  Be Bold, Be Brave, Be You! Choose tile that reflects your personality and has meaning to you. Get Fire Creek Tiles today!