Description
Moose
4 Inch Ceramic Tile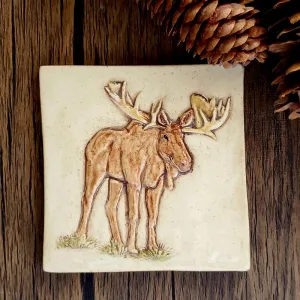 A Moose holds special meaning to many.  These amazing creatures are known for their strength and their ambling ways endear them to many.   This 4-inch tile attempts to capture their unceasing curiosity.   Pair this tile with the Black Bear and Elk tile to represent the beautiful animals of the backcountry for an eclectic fireplace surround.  Use multiple Moose tiles for a statement in a country or cabin kitchen. Surround yourself with the wildlife that holds special meaning to you.
Each tile starts as a slab of clay, hand carved and cast in plaster.  Let me tell you about how I make these adorable ceramic art tiles for your home.  Tiles are stoneware and suitable for kitchen backsplashes, bathroom tile installations and fireplace surrounds.  With several different glazes to choose from, you are sure to find the perfect glaze to compliment your rustic home. I craft every tile just for you, so please allow up to 6 weeks delivery.
You don't have to have the same look that all of your neighbors down the street have.  Add an enduring piece of art to your beautiful home with Fire Creek Clay custom ceramic art tile.  Choose custom tile that reflects your personality and live in a authentic home.