Description
Raccoon
4 Inch Ceramic Art Tile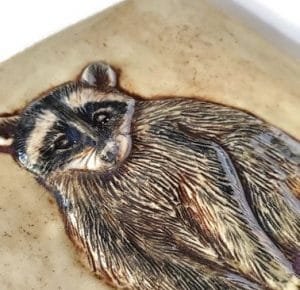 Raccoon Art Tile.  Hand crafted by Fire Creek Clay. Who can resists this sweet face?  Each tile is hand carved from a slab of clay before being cast in plaster. Learn about Fire Creek's hand crafted tile process.
The tile is:
4 Inches
.25 inches thick to pair easily with Commercial field tile or Fire Creek field tile.
Hand carved and glazed
Stoneware clay for durability.
Suitable for installations in kitchens, bathrooms and fireplaces
Crafted at the time of purchase, so please allow up to 6 weeks for delivery.
Learn more about Fire Creek Clay and the artist.