Description
Rooster Tile
4 Inch ceramic tile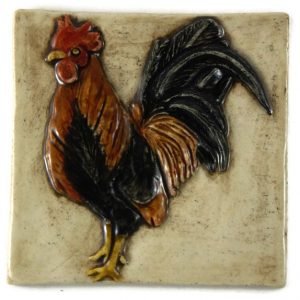 This Rooster is a bit rowdy but would still make a great accent piece to your tile project.  Get a whole herd of them or pair him with the rest of his farm buddies, the goat, the sheep tile, the dairy cow and the pig! Our tile is 1/4 inch thickness to pair easily with natural stone, or commercial tile.
Each tile starts as a slab of clay, hand carved and cast in plaster.  Take a moment to read about our tile process HERE.  Fire Creek can help you achieve the look of your dreams.  Do you still have questions?  You can find answers to our most frequently asked questions HERE.
You don't have to have the same look that everyone on the street has! Choose tile that is meaningful to you!
We hand craft every tile just for you.  Please allow up to 6 weeks for delivery.