Description
Bear and Cub 
6 inch x 8 inch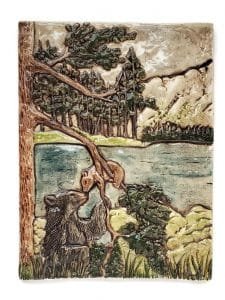 Fire Creek's Bear and Cub Art depicts a Mama Bear coaxing her cub down out of pine tree growing along the banks of an Alpine Lake.  The Bear and Cub tile is the first in the upcoming Walk with Nature series.   Beautiful alone or collect each tile in the series to reveal an entire Wilderness Scene, each tile with its own featured wildlife.
The artist of Fire Creek carefully carves, casts and glazes each tile by hand.  Every tile is unique and made from stoneware clay.  Fire Creek hi fires each tile for beauty and durability. Read all about the tile making process. This tile measures 6 inches x 8 inches and is .25 inches thick to pair easily with commercial tile.
Use Fire Creek Clay ceramic art tiles to resist the ordinary.  Handmade tile can be used in fireplace surrounds, kitchen backsplashes and bathroom installations.  Personalize your home and surround yourself with functional artwork, depicting your love of wildlife and wilderness.  Perfect for a Country Home or a rustic cabin. Contact Fire Creek today and let us know how we can help bring your next tile installation project to life.
Each tile is made to order, so please allow 4-6 weeks delivery.