Description
Hunting Companion
4 Inch Tile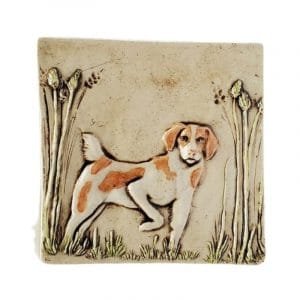 The hunting companion ceramic tile depicts a loyal friend out on a hunting trip or adventure.  The Brittany Spaniel stops to connect with her owner before rummaging through the bushes for more birds.  Use this tile alone or pair with "The Point" and "Pheasant Chase" to complete the mural.
Hand carved and glazed
Crafted from stoneware clay
4 inch tile
.25 inches in thickness
Pairs easily with commercial field tile, natural stone or Fire Creek field tile.
Suitable for installation in a kitchen backsplash, bathroom or fireplace surround
I specialize in relief and highly detailed ceramic art tile of wildlife and nature.  It is my passion to create custom works of enduring art for the homeowner who wants to live closely to nature and wildlife.  Learn about my tile process.