Description
Quilted Mountain Mug
16 ounces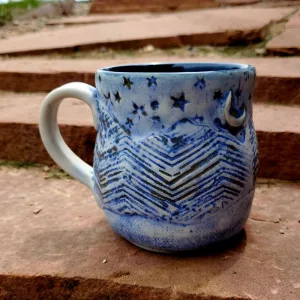 The Quilted Mountain Mug is a favorite and each mug is a one of a kind.  This is a hand built from slab mug.  Different textures are quilted together to create an abstract starry night mountain scene.  A reactive blue pigment and soft matte white glaze gives the beautiful mug a rustic vibe.  The interior glaze is a stormy gloss blue and comfortably holds 16 ounces of your favorite beverage.  You need something special to hold your favorite beverage as you gather around the firepit with friends under a dazzling night sky.
This mug measures approximately 4 inches tall and 3.5 inches in diameter.  Each mug is individually made with its own unique glaze.  No two will ever be alike and makes the perfect gift for your adventure loving friend or a treat for yourself.
Built from stoneware slab and fired to 2167 degrees.  Fire Creek pottery is dishwasher and microwave safe, however using the dishwasher and microwave may shorten the life of your pottery.  Learn the best practices of caring for your new pottery.
Grab it before its gone