"Home is where your story begins."
Using Fire Creek Tiles in your next remodel project, can personalize your home the way big home improvement stores can't.   
We have been in our house for almost 16 years! Holy Cow, where does the time go?  In those 16 years, we have yet to make any kind of improvements to our home.  You know…we were busy with trying to keep up with two boys…who has the time.  Now that our boys are older, I have the time to look around my house and notice all of the old, out dated stuff in our home.  The kitchen had to be first.  I walked around the typical Box Home Improvement Stores that every town has, trying to decide what to do with my kitchen.  New countertops was a must and I would love to have a beautiful tile backsplash…cuz you know… I love tile.
As I walked down those tile aisles, there were some beautiful sample displays.  Very nice tumbled stone, very nice marble or ceramic tile, but nothing screamed "Take Me Home!"   I could walk into any new home or newly remodeled home and find these very tile installations.  But don't get me wrong, they are very lovely!  Now I don't know about you, but I want my home to reflect the things that I love and the truth to who I am.  And these tiles are just not going to cut it.  I want something different, something that I LOVE, a piece of art work to display in my home permanently.
Which leads me to why I do what I do.  Making Custom Tiles by hand is what I do, it is my passion. Fire Creek has been in business for 6 years.  Many ask me why they should consider custom tiles made by a artist as opposed to making a trip down to their local home improvement store.  A reasonable question. Let me give you an answer!
Have you ever really looked closely at the tiles in the big chain store? Really looked closely at them?  Walk down the tile aisle, pick up a ceramic tile.  Get your eyeball in there really close….do you see it? Do you see the pixels of color? Many of the tiles made commercially have designs that are printed onto the surface of the tile. All handmade tiles are made carefully, lovingly hand carved, glazed or both just for you.  Natural Stone tile, while beautiful are common from store to store with very little variance and only in neutral colors. Custom tile can be customized to any color of the rainbow, all you need is to ask! Hint, hint…Fire Creek always welcomes customizations for your home!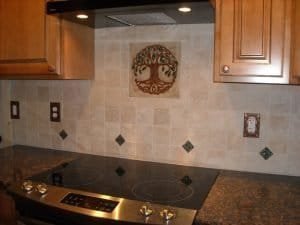 Commercial tile companies stamp out tiles by a giant machine, clay pressed into molds unenthusiastically.  Commercial tiles travel quickly past an employee who randomly checks tiles for quality. Artists who make custom tiles understand that their very name and business hangs on the quality of each tile that leaves their studio. They also understand their product more than their larger competitors. They can tell you exactly what clay was used, how it was fired and whether the tile you have been eyeballing would be suited for outdoor installations or not. Not all tiles are created equal with regards to indoor and outdoor installation.
Big home improvement stores carry the same tiles from Coast to Coast. With the many millions of customers buying tiles every year, the chances of having common tile are pretty high. That may not be a huge deal to some, but shouldn't your home be a personal retreat; a reflection of who you are? Working with a Tile Artist, you can take your own specific ideas to be drawn up. You have a hand in the creation of the design, adding a personal touch to your home, that only you can offer.
Adding personalized tiles into your home will give it a uniqueness to only you.

Installing custom tile into your home can give you the satisfaction of a personal touch and knowing that you are supporting your community. There are many Tile Artists throughout the country. Finding an artist close to you is just a short search away. You can find many artists' here where they are categorized by region. Using a local artist can give your beautiful home a sense of place and uniqueness.
If you are in the market for tile to beautify your home, take some time and research Custom Handcrafted Ceramic Tile. It may be a surprise to you that small pieces of art to personalize your home may be competitive with the prices of mass produced commercial tile.
 Isn't your personal space worth reflecting your authentic self? Check out Custom Ceramic Tile today!