Description
Double Celtic Knot
6 inch ceramic tile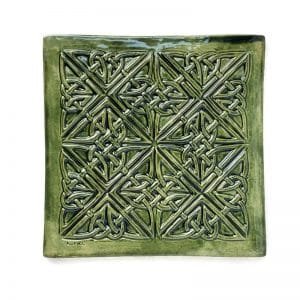 Double Celtic Knot tile is an intricate and complex knot that will add the mystery and beauty that naturally comes with Celtic design. We updated this design for an even more beautiful, intricate knot.  This tile measures 6 inches square and made from stoneware clay for beauty and durability.  Our tiles are 1/4 inch in thickness to pair easily with natural stone, or commercial tile.  Fire Creek can help you achieve the look of your dreams!
Every tile begins as a slab of clay, hand carved and cast in plaster.  You can read about our tile process here.  This process lends to every tile being a unique piece of art.  We craft every tile just for you, so please allow up to 6 weeks delivery.  Do you still have questions?  You can find answers to our frequently asked questions here.
You don't have to have the same tile as everyone else.  Choose tile that is meaningful to you and bring home Fire Creek Clay tiles today!