Description
Large Platter
14.5 inch x 6.5 inch Ceramic Platter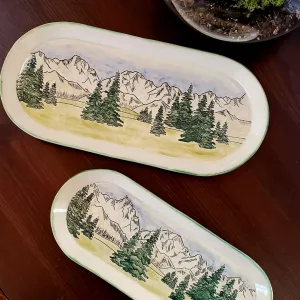 A perfect large platter for your next party or spring BBQ. A great size for appetizers, charcuterie, and other party snacks.  A great platter to bring cheerfulness no matter what the occasion.  Choose from many of Fire Creek's signature doodles.  Be sure to check back often as new designs arrive to celebrate the change with each season.  The Majestic Mountain Design will be available at each Market Day.  Each platter is hand built, the design is careful doodled into the surface of the clay, inlaid with slip and fired.  After the first firing, each platter is colored with underglaze to give it a bright, colorful finish.  Made one at a time, each piece is unique.
Spring Designs: Birds on a Branch, Joyful Spring Bees and Lavender, Lucky Day Clover and Ladybugs.
Summer Designs: Swimming Trout, Mushrooms and Snails, Butterflies and Sunflowers. Under the Sea
Autumn Designs: Pumpkin Patch, Haunted Cemetery, Mushrooms and Snails
Winter Designs:  Christmas Tomte, Snowy Pines, Sweetly Sleeping
Built from stoneware slab and fired to 2167 degrees.  Fire Creek pottery is dishwasher and microwave safe, however using the dishwasher and microwave may shorten the life of your pottery.  Learn the best practices of caring for your new pottery.