Bits of advice to get your diy remodeling project off to a great start.
This little virus is reeking havoc across the globe. There is no toilet paper, shelves are bare and events are cancelled. If you're like me, you've got some spare time on your hands. With no place to go and staring at the same four walls, my hubby and I went stir crazy. That is how we found ourselves in the middle of a remodeling project. Just a small project…just remodeling the entire downstairs of our house! It started off with wanting to refinishing our wood floors. That led to painting all of the walls in the family room, which led to new blinds for the windows…..Do you see how it works? One project always snowballs into another. And more projects and money than you ever planned on. I thought I would share a little about what we learned on our DIY remodeling journey.

If you asked my hubby…his number one piece of advice to share would be "Don't listen to your wife". Insert my big eye roll here. But seriously speaking, here are some tips to help keep your mind off of that nasty bug. And get some of those long overdue projects finished!

---
Just 7 easy tips…
Decide on your project and what it could lead to. Sounds simple right? I mean, it's easy to pick that one thing that really needs an update or has always driven you crazy. Our wood floors needed some serious help. Deciding what project to start with was easy. But refinishing the floors meant that we had to pull off the baseboards before sanding the floor. If the baseboards are already off, why not go ahead and paint them. It's been 18 years since they've seen a paintbrush! See, it's like the book If You Give a Moose a Muffin, one project always leads to another. Be sure to think what lies ahead and plan for it because multiple projects are inevitable.

Know what you're capable of. My hubby is serious about woodworking as a hobby, so he capable working with giant sanders and finishes. I wouldn't recommend working with a drum sander for just anyone. If you are unfamiliar with the required heavy equipment, you can hurt yourself. You can also damage your project beyond repair. My hubby and I have no experience or knowledge on how to lay carpet. So, for that project, we are trusting the professionals. Know what you can and can not do…and be honest with yourself. It's ok not to do it all.
Research. Now that you know what your project entails and whether or not you have the skills to do the project…it is time for a little research. Research the materials that you may be using. Find what will work best for you and the project at hand. Know how much it will cost to rent any tools that you may need and how to use them. Be sure to research how to complete the project in general. There are so many wonderful videos on YouTube to help get you on your way. Videos created by the companies that make the materials and tools that you will be using will give you the most accurate information.
Budget. With your research complete, you have a great idea as to how much materials will be and how much it will cost to rent the required tools. Make sure to plan for a little extra for those unexpected expenses. Write up your budget and refer to it often. This will keep you from overspending.
Create a Calendar. My hubby took a week off from work to get our downstairs remodeling finished. Between the hard wood floors, repairing and repainting baseboards…Oh painting the walls, installing new window blinds, and prepping for new carpet…it would be a tight schedule. Dear hubby created a calendar of what needed to be done. Right down to what day we would rent each tool and complete each step. Having a schedule of the entire project keep us on task. It gave us an idea of what needed to be done each day. The calendar helped us complete the project on time and within the time we had available to us.
Clean and Purge. As you are clearing you area to start your project, now is the time to clean. Dust those hard to reach shelves. Get rid of items that no longer fit with your upcoming new decor or that you are just tired of. Reducing the amount of stuff will help get your house back together, easier. It is also amazing how much brighter the house is when the lights have been cleaned! oops.
Time to begin. You have your budget and your plan. Your space is clear of clutter and clean. Now it is time to get started on that amazing project! You are ready to complete your remodel with confidence and stay within budget and time.
---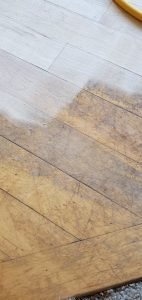 Sure, there are amazing professionals out there can take your vision of the perfect home and create it for you. I have worked with a few of them and I honor their skills and vision. But there is also something to say about crafting a home in your own vision with your own two hands. If you have the skills, why not give it a try?
If your project involves tile, I have some great tips for choosing tile. Have you got a few tips for remodeling that you would like to share? We would love to hear them. Comment below!